Parents Applaud Their Child's Return to School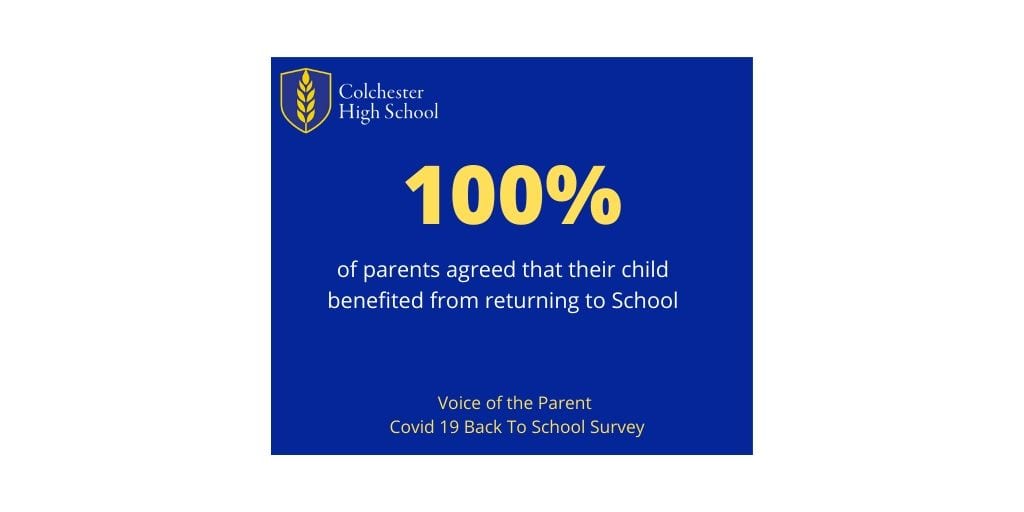 Colchester High School are so proud of the results of a recent survey of parents of children who have returned to School in June that showed that
100% of parents agreed that their child benefited from returning to School
100% of parents agreed that every possible risk mitigant that could have been taken was taken.
100% of parents agreed that the return to school process was well managed by the School.
Most importantly though it has been so warming and reassuring to know how much the children love school and how it has made such a difference to their wellbeing.
Here are a few of the very positive comments received from our parents.
It's so lovely to see the children excited to go in every morning and eager to tell parents about what they have done when they come out at the end of the day.
Think the parents have missed the school and teachers as much as the children, so good to see everyone again.
Our son has really enjoyed being back and he has taken the changes in his stride which only comes because all the changes have been well thought out and well planned.
Our daughter is so happy to be back at school and has really benefitted from being back with her teachers and friends in the school environment.
Our son was so excited about returning to school and had a fantastic day – he was absolutely buzzing when he came out and couldn't stop talking about it!
Published on: 1st July 2020