Nursery in Colchester
Every child at our Nursery receives a wonderful start in life. Take a look inside any of our warm, safe, homely rooms and you will find happy, secure children, playing, exploring, experimenting, socialising, discovering, learning and, above all, smiling.
Take a closer look and you will see the attention paid to each individual child by our experienced and qualified Nursery practitioners. You will see how we encourage and nurture their personal interests, how we set them specific goals, and how those goals are so closely monitored that they can be updated by the hour.
If you watch for a little longer, you'll also notice a structure to the way we engage with the children – a structure that allows us to combine formal learning in phonics and maths with more free-flowing play sessions. And you will also see specialist teachers coming in from later stages of the school to introduce the boys and girls to subjects such as PE, ICT, music, drama and French.
Pupils join our Caterpillars Nursery children from 2 years old.  They proceed into our Pre-Reception class in the  September 1 year prior to Reception.  It is anticipated that all children who join our Nursery will complete the early years curriculum with us in Reception and then continue upwards into Year 1 and beyond.
To ensure your child is able to take full advantage of our approach to teaching and learning in Nursery, it is an expectation that they attend for a minimum of three days (six sessions) per week during the core term time, increasing to full time (10 sessions) in the year prior to their joining Reception. There is no minimum requirement during the holidays.
It is anticipated that all children who join our Nursery will complete the Early Years curriculum with us in Reception and then continue upwards into Year 1 and beyond.
At Colchester High School, our Nursery is an intrinsic part of the School and regularly participate in whole school assemblies, productions, speech day, sports day, as well as enjoying mixed playtimes and lunchtimes with Reception.  This integration with the rest of the school is important as it helps to develop social skills and independence and enables a smooth transition into Reception.
Our safe, happy individualised learning environment and the expertise of our practitioners make for a powerful combination ensuring that 100% of our children receive a good level of development by the end of the Early Years Foundation Stage (Nursery to Reception) compared to 70% nationally in 2021.   The majority of our children go on to study 'a year ahead curriculum' ensuring they exceed national expectations at all levels.  For our most able pupils, this includes providing support both inside the classroom and in extra-curricular Aspire Higher and 11 plus 'boost' preparation classes which will help to prepare them to sit the entrance exams into local Essex Grammar Schools and the Assessments for our own Scholarship applications into our Senior School.
I love showing new families around our Nursery. They always remark on the happy faces of our boys and girls, the vibrancy of our rooms, and the stimulating environment of our outdoors space. Do please get in touch if you would like to see it all for yourself.
Until then, please enjoy a tour of our Nursery and Reception Early Years setting below.
Karen Hull
Head of Early Years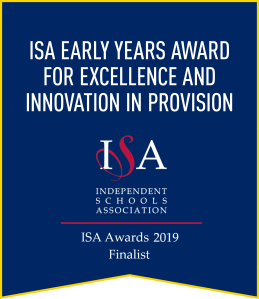 Nursery and Reception Tour
Pay Us A Visit
We regularly hold complimentary, fun events for pre-school children and their parents to give you the opportunity to visit and experience our nursery in very relaxed and informal circumstances.
During Term time, we invite you and your little to attend one of our free 'Stay and Learn' sessions, full of fun and discovery linked to early years learning. These themed sessions are open to any pre-school child accompanied by a parent, grandparent or other guardian. All our sessions and booking information is shown here.
We also host an Early Years Community Petting Farm Day in May each year where your child can not only meet lots of lovely animals to pet but also enjoy farm themed arts and crafts, sports and face paints.
We would be delighted to welcome you to these events or arrange a personal tour of our Nursery.  If you would like to know more about our Nursery provision, please do not hesitate to contact our Admissions Manager, Susan Hilton on 01206 217 116 or click here to complete the online enquiry form.