Choosing a school for your child when they approach five years of age can be a daunting time. But at Colchester High School we are here to hold their hand – and yours!
Reception at Colchester High School
A child's Early Year's education is vital for the development of the building blocks required for progress in learning.
At Colchester High School, we pride ourselves on giving our Reception pupils the best start to their educational journey, where your child will develop, flourish and become a happy, confident and independent learner with a curiosity about the world around them.   By providing a structured formal education supplemented with a wide range of extra-curricular activities, the vast majority of our pupils exceed their Early Learning Goals, placing them one year ahead academically and giving them the confidence and motivation to excel throughout their School life.
In our warm and welcoming Reception classroom, our dedicated and enthusiastic teachers offer a blend of free-flowing play and formal learning.
Specific targets are set for each child using the Early Years Foundation Stage (EYFS) to ensure that they develop socially, emotionally and physically, but the curriculum is also broadened to include formal learning in Mathematics and Literacy.  The children also receive specialist teaching in PE, ICT, Music and Languages – one huge advantage of being part of a through School.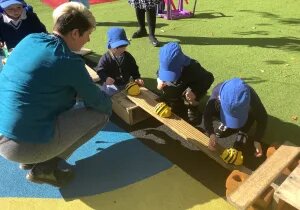 Literacy features highly in the Reception curriculum.  Our children are all encouraged to look at and share books with each other, listen to stories and engage in role play. They enjoy a daily structured phonics programme and are listened to read daily. It is a huge advantage for the Nursery children to be able to read as they start School and we are very proud that at the end of Reception, the Hertfordshire Reading Tests results show that our children are on average 2 years ahead of their chronological reading age.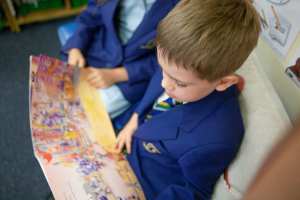 Important mathematical concepts are also taught through a variety of play situations, counting rhymes and activities using the White Rose Mathematics Scheme.
Our Early Years outdoor area provides the children with opportunities to explore the outdoor environment, equipment and resources, contributing to their knowledge of the world around them and their physical development.  The Early Years Garden is also used as an extended classroom to provide a different dimension to the pupil's learning and our Reception children also attend Forest School lessons.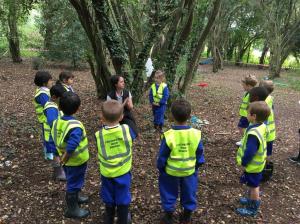 Due to our small class sizes, we are able to create an individualised programme of study for each child.  Intervention can be put in place where additional support is required and extension activities for the higher achieving pupils.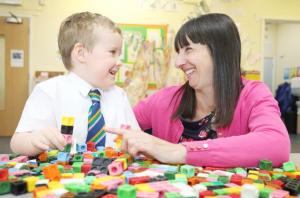 Our Reception class are an integral and celebrated part of the school community and share the School ethos. As a school we strive for every pupil to achieve their very best in terms of academic achievement, but we also firmly believe that education should develop children's character, encourage a strong community spirit, cultivate a global perspective and understanding of others.  Our Early Years children therefore participate in a wide variety of school activities including charity days, First Aid Courses, Remembrance Services and global celebrations such as Chinese New Year, Divali, Eid and Christmas and are also encouraged to participate in our Character Development Programme, the "Wellesley Award."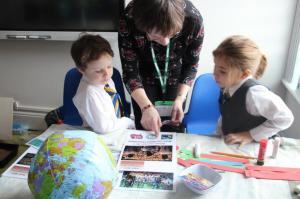 It's an educational approach that works. In 2021, we achieved a 100% "Good Level of Development" compared to 70% nationally.  The majority of our children go on to study 'a year ahead curriculum' ensuring they exceed national expectations at all levels.  For our most able pupils, this includes providing support both inside the classroom and in extra-curricular Aspire Higher and 11 plus 'boost' preparation classes which will help to prepare them to sit the entrance exams into local Essex Grammar Schools and the Assessments for our own Scholarship applications into our Senior School.
Most importantly though our Reception children are confident, happy and eager to move up into our Year 1 where they commence their formal schooling and continue to develop into well-rounded, happy, thoughtful children who have bright and exciting futures.

Academic Results
Our success can be measured by our excellent results at the end of Reception.
For our results at the end of Lower School and beyond, please click here.
100% of our boys and girls achieve a 'good level of development'.  The national average was 70% in 2021.
100% of our pupils achieved a reading age of 1 year and 8 months above their chronological age.
100% of pupils in Reception have achieved expected or above average progress with an overall standardised score of 116.5, well above the national average
Nursery and Reception Tour