SENIOR PGL MARCHANTS HILL TRIP – DAY 2 BLOG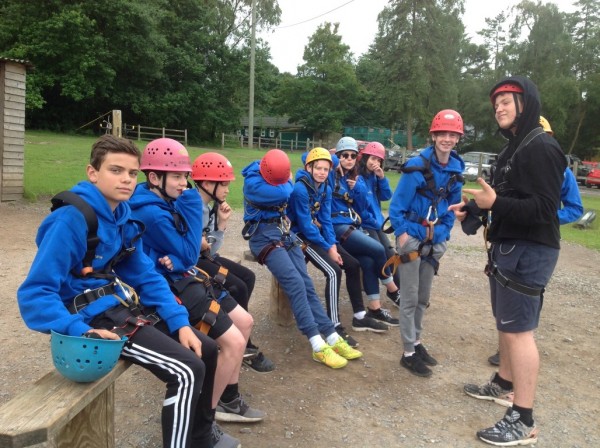 Yesterday we started off by climbing up Jacob's ladder. Several people managed to get to the top and everyone gave it a go. Afterwards we set off to the trapeze where you climb up a pole and attempt to hit a red ball whilst jumping of off the podium in a harness. Mr Rayner also killed lots of brain cells by tapping people's helmets with a foam rugby ball!
After we finished lunch, our group (squad Rayner AKA the best group ever) did some archery which was fun because we played some games where you had to hit a certain target to save the princess! Also because some of us had to hit a certain target, I am now going on holiday to Barbados with Niall Horan from One Direction. The instructor was really funny and gave funny names to the different parts of the bow for example: the part where the bow was is called dead man's legs!
When we finished archery, we met another instructor for abseiling.  Most of us competed it but it was too high for some of us but everyone got to reach the floor of the tower!
For the evening activity we played splash.  We worked in our "squads" to make a protective shell for our water balloon that was to be dropped off of the tower! Only one balloon was popped and one was thrown at Mr Rayner!
Please click here for photos.
Ellie, Emma, Isabelle, Nora and Giulia year 7
Published on: 6th July 2016