ISA National Cross Country 2019 At Rugby School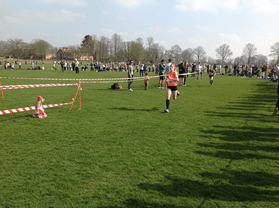 On Saturday 30th March our top cross-country runners travelled with us to the famous Rugby School, the place where William Webb Ellis picked up the ball and inadvertently invented Rugby. Thankfully, the weather was much kinder this year as the event has been cancelled for the last 2 years due to snow, with us trying 3 times last year. Here's how our runners faired:
To become a national champion requires a lot of determination and motivation, and that's exactly what Kiera and Kayleigh showed again on Saturday. Kiera had us all panicking as she appeared from the bottom gate with about 200-300m to go, neck and neck with another girl. But it was never in doubt. Kiera's hard work paid off as she wore down the other runner and finally claimed her first ISA National Cross-Country title.
Hopefully next year she will be able to hand the title over to her sister Kayleigh who had a brilliantly calm and sensible run despite the hectic start to the race. To her great credit she had pride in her performance and came in with an amazing sprint to finish 3rd even though she didn't need to.
It was such a great day. Phoebe and Ayo running as Year 5's against the older Year 6's held their own with Phoebe finishing in 51st place and Ayo in 37th. We can't wait to see you both run again next year. You were both brilliant! Every single member of the team can be very proud to finish so well against the best 70 runners in the country.
Thank you and a huge well done also goes to: Elsa (48th), James (9th), Arthur (28th), Harry (32nd), Jamie (44th), Chris (15th) and Cameron (24th).
Many thanks also go to all of the parents for their support of this event. We had a great time and are so incredibly proud of our amazing pupils and their achievements.
Published on: 1st April 2019