Global Recycling Competition Winner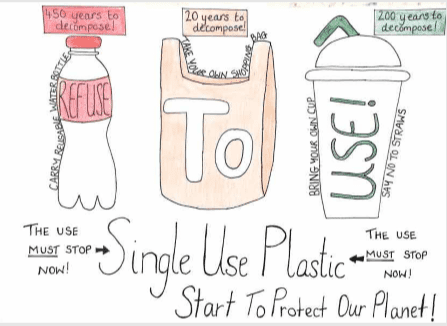 Millie Awarded 1st Prize in Global Recycling Competition
We are so proud of Millie in Year 7 who came 1st in the Cognita Global Recycling Competition.   
In line with World Environment Day, Cognita pupils across the world were invited to create a piece of work that represents the importance or impact of recycling.  Millie designed a poster detailing the time it takes plastic to decompose and entreating the public to reduce their use of plastic. 
Millie's work truly inspired our Global Director of Wellbeing, Beth Kerr, who said "I was utterly staggered that it takes 450 years for a plastic bottle of Diet Coke to decompose. She has made me adjust my behaviour and I really hope her passion for the environment continues. She is a credit to Colchester High School, her parents and herself." 
As a winner of the competition, Mille has asked for a donation to be made to her charity of choice.    
Millie was one of a number of pupils who participated in the competition from Colchester High School. A sample of their work can be viewed below.  
Published on: 15th July 2020