Congratulations to our Pupils who have achieved their Bronze Arts Award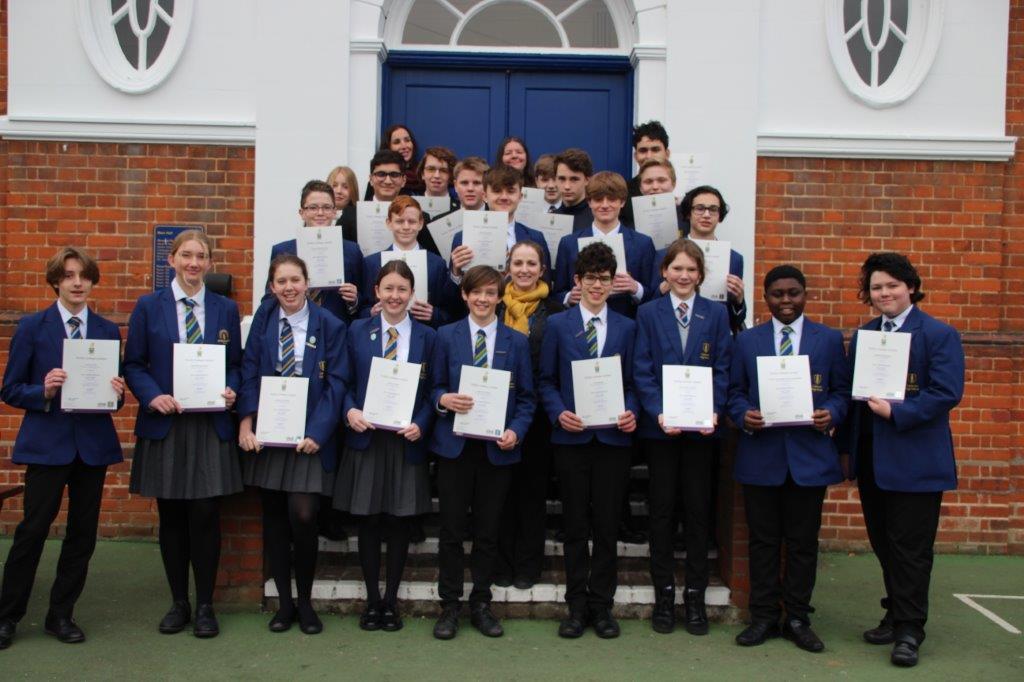 This week we had the pleasure to present 28 of our pupils with their well-earned Bronze Arts Awards Certificates. This is a Level 1 Award in the Arts by Trinity College and to achieve it young people have to collect evidence in an individual portfolio of their experiences of:
developing their interests, knowledge and skills through actively participating in any art form
experience of at least one arts event/experience as an audience member and their review of that event/experience
researching the career and work of an artist or craftsperson that inspires them
experience of passing on an arts skill
Our pupils impressed us with their digital portfolios using Bookcreator where they included a range of media to demonstrate their commitment and involvement in the Arts. They designed their own books, created virtual instruments, prepared and performed pieces of music, took photos, showed their artwork, created music loops and used Minecraft for Education to design spaces in relation to the UN sustainability Goals. They also wrote in depth reviews and self-reflections of theirs and other's work, thoroughly researched artists and taught us martial arts routines, origami, map drawing, pixel art, play keyboard, trumpet and guitar, bake cakes and djembe drum technique.
With the idea of going fully digital with the portfolios pupils have also shown a huge development in their digital literacy skills as they are now proficient in using a number of applications. We have seen fantastic, creative use of Bookcreator, Microsoft 365 apps, Scratch, Flipgrid for videos and sharing voice, Microsoft Stream to record their screens, Adobe Spark to create web pages and Minecraft for Education to design and code just to mention a few!
Going forward, we are now embedding Arts Award qualifications in our KS3 curriculum, so our Year 8 pupils have already started to collate evidence for their portfolios from their Music, Art and Computer Science lessons. We cannot wait to build on this year's success and go into another incredible journey.
The Bronze Arts Award is a qualification equivalent to a GCSE. This can help us in the future as it not only shows the ability with arts and music but also shows the skills we have learnt from completing the project such as communication skills, learning to complete work to a deadline and lots more.
The Arts Award was a fun and educational experience that I thoroughly enjoyed, and the fact that I managed to get a qualification out of it is just a bonus. The skills that I learned completing the award will stay with me for the rest of my educational career, and possibly my life. The researching skills that I gained in the process can be applied to any situation and could boost my knowledge in every situation in my later life. The qualification can support my applications in the future to Sixth Forms and universities, possibly helping me to be above competitors for jobs in adult life.
Published on: 31st January 2022