Colchester High School pupils celebrate excellent GCSE results.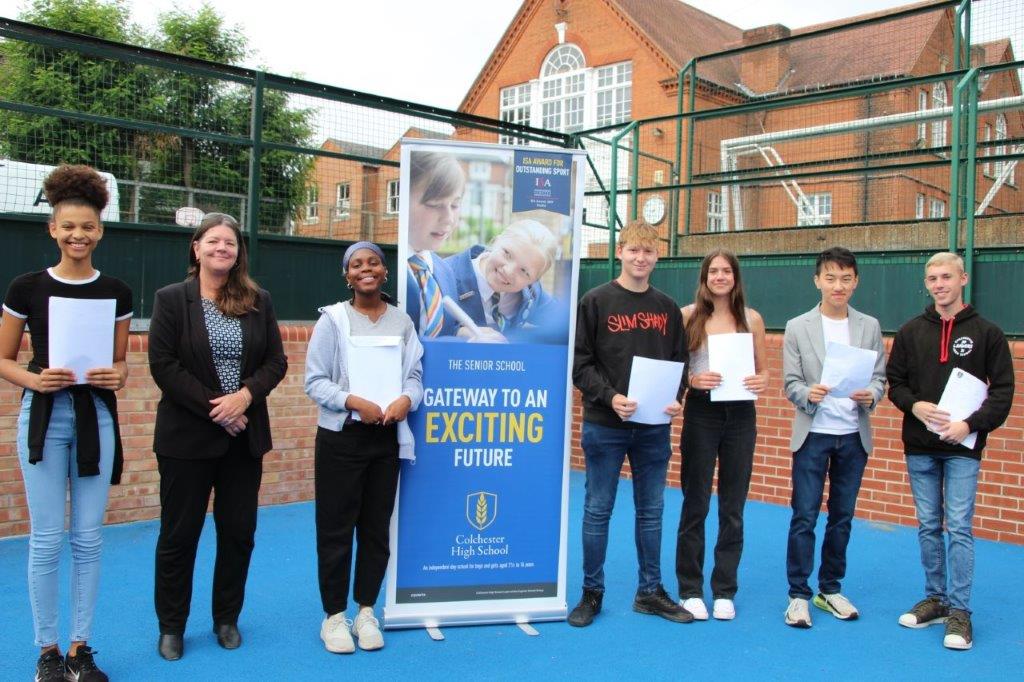 Pupils from Colchester High School are celebrating an incredible year of GCSE results. 98% of grades achieved were at Grade 4 or above (National Average 77%) and more pleasingly, 57% of grades were at Grade 7 or above (National Average 29%). 96% of pupils achieved at least 5 or more passes at Grade 4 and above, including Mathematics and English.
Ms Karen Gracie-Langrick, Headteacher of Colchester High School, said, "It has been such a pleasure to celebrate the excellent GCSE results achieved by our Year 11 pupils and to know that they have overcome the many challenges faced throughout this year.  Determination and hard work have ensured that our pupils have gained outstanding results, with over 1/3 of our pupils gaining 8 or more grades at 7-9. We are especially delighted with the excellence demonstrated in the STEAM subjects in which a 100% pass rate was achieved in Mathematics, Further Mathematics, Single Sciences, Computer Science and Graphic Design. These results are testament to the dedication of our pupils, combined with excellent online and classroom teaching and robust assessment.   My congratulations go to all our Year 11 pupils who should be so proud of their individual achievements. We wish them every success with their futures."
Top performers include: Max Conley and Benjamin Wratten who achieved 11 GCSEs at Grade 9; Oscar Man who achieved 10 GCSE's at Grade 9 and 1 Grade 8; ; Harry Gilbert with 6 GCSE's at Grade 9, 3 at Grade 8 and 1 Grade 7; Anu Ajagbe with 2 GCSE's at Grade 9 and 7 Grade 8s; and, Georgia Bleck with 4 GCSEs at Grade 9, 3 GCSEs at Grade 8 and 4 GCSE's at Grade 7s. Max, Oscar and Benjamin all also achieved a Grade A in Level 3 Additional Mathematics.
Oscar Man stated that "I am elated with my results.  I thought I had done well but of course I was very nervous this morning. I worked hard but most of the credit must go to the teachers who have helped me over the years.  I now plan to take Mathematics, Physics, Computer Science, and Further Mathematics at A Level to support my plan to be an Engineer in the future."
Published on: 12th August 2021