Upcoming Admissions Events
At Colchester High School we believe it's important for children to want to be here. That's why we regularly invite parents and children to visit our school.
Our next Open Morning will be held on Saturday 1 October from 10am – 1 pm to provide prospective parents with an opportunity to learn more about our School.  The morning will include a tour of our school "in action" and an opportunity to learn more about our small, close knit community and individualised educational offering focussed on "Building A Bright Future for All" .  To book a place at the open morning or one of our other Admissions Events, please complete the short enquiry form below.
If you would like to visit the School prior to this date, please contact Mrs Hilton our Admissions Manager for a private tour.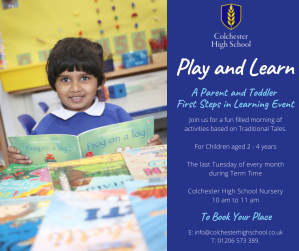 Our Early Year's Department (Nursery and Reception) are delighted to launch our "Play and Learn" toddler sessions. These will be held on the last Tuesday of every month (Term Time only) for children aged 2 to 4. These sessions (from 10am to 11am) are designed especially for pre-schoolers and their parents to experience their first steps in learning and will be filled with fun activities based on traditional children's tales.
The next session will be held on Tuesday 28 June.
All children must be accompanied by a parent, grandparent or other guardian.
Please contact us to book your place by emailing info@colchesterhighschool.co.uk or by calling 01206 573 389.
We look forward to meeting you soon!
Admissions Events
The upcoming admissions events that we are holding are listed below.
| | | |
| --- | --- | --- |
| June 2022 | | |
| Tuesday 28 | Play and Learn Morning | 10 am - 11 am |
| | | |
| October 2023 | | |
| Saturday 1 | Open Morning | 10 am - 1 pm |
| Wednesday 12 | Year 7 Taster Day for Year 6 Pupils | 9.30 am - 3.30pm |
| Saturday 15 | Year 5 Performing Arts Event - Commotion in the Ocean | 9.30 am - 11.30 am |
| | | |
| November 2023 | | |
| Saturday 5 | Year 7 2023 Entrance Assessment | 9.00 am - 1 pm |