2017 Senior School Ski Trip Blog by Mrs Candler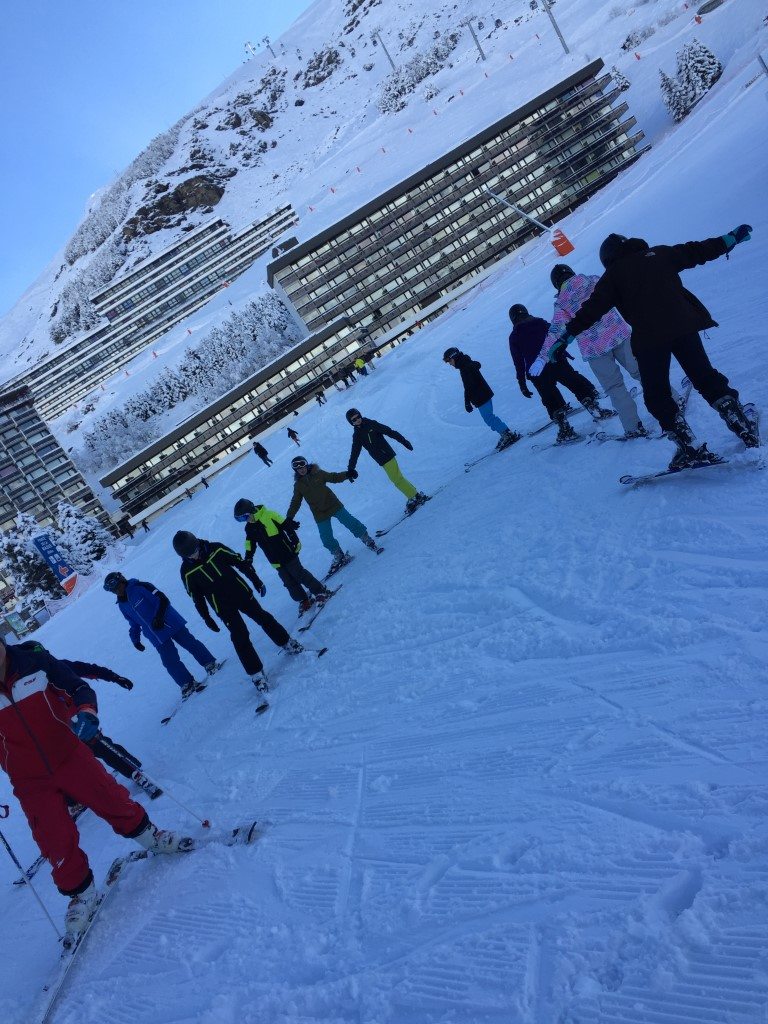 Day One – day one passed without any issues and all students have enjoyed the alpine air. We were lucky to have a foot of snow over night and the slopes were lovely. We have spent this morning on slightly icier ground but they have coped well with it. The advanced group has had a special treat today: packed lunches and a trip to the next valley. The intermediate skiers have mainly been on blues, with one attempt at a red this morning. Beginners have learnt to turn and are already skiing tough greens. The food is lovey, the beds comfy and all are feeling happy.
Day Two – day two was another great day out and about; the beginners went all the way to the top of the mountains, providing them with a glimpse at the top of Mont Blanc in the distance. They skied down a blue run(and this was only day three?!) and when given the choice of doing it again or taking an easy route down, they all opted for a repeat performance. The intermediate group have been stretching themselves with icy reds, a bit tricky going but they have all managed it. When they reached the bottom their instructor informed them that the red run, were it slightly longer, would be classified as a black. Our advanced group have been performing jumps, skiing off piste and generally having an awesome time out. They all assure me that they are not skiing at more than twelve miles an hour…I suspect this is their way of not making me worry about them as it's definitely not true! Last night's activity was 'speed mountain', a roller coaster where they control their own speed. All pupils opted to crank it all the way up to eleven, with the phrase 'breaking is for babies' being shouted loudly; it was good fun and everyone enjoyed it.
New Update Friday 31st – Yesterday was another great day with high participation in the slopes. All groups have been racing slalom style, trying jumps of various sizes and skiing some off piste areas. The beginner group ended the day with a red run and have been the most advanced beginners the school has ever taken away. Yesterday saw a personal victory for Shafi, who didn't fall over at all! The same can't be said for some of the staff… Last night was disco night; Mr Carr and Mr Munson stayed well away from the teeming mass of unwashed teenagers, but Mrs Long and I dived in and won the dance off. Year tens were given the option of dancing or a pool tournament, they chose both and livened the night up considerably. This morning we have decided to skip the hotel lunch and have instead all been given a packed lunch; we will meet on the slopes for a group picnic and then take our final half hour ski back to the hotel as one group. The pupils have been complimented by the hotel staff for their polite manner, their enthusiasm and their tidiness at the dinner table. The ski instructors have all said that the group has a lovely atmosphere and are all supportive of each other in a way that they don't always see from groups of this age. As ever I am so proud of the pupils we have at CHS and have enjoyed their company all week.
Please click here for photos
Published on: 30th March 2017